.A student of Microbiology department, identified as Niyi from the University of Lagos allegedly committed suicide as a result of the carryovers he had in some courses.
The depressed student took his life after seeing his result. His friends and colleagues have taken to social media to mourn him, in the course, it was reviewed that, this is the second time a student from the department of Microbiology in UNILAG is committing suicide in a space of 3 years.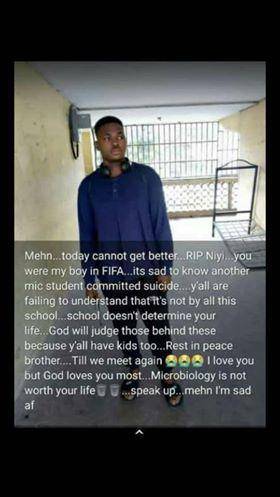 Mourning him, a twitter user also wrote; "Try as much as possible to talk to your friends always, everybody seems to act okay but they really are not. Depression is real, they just need some one to spill their mind to. This microbiolgy Unilag student just commuted suicide. R.I.P NIYI".